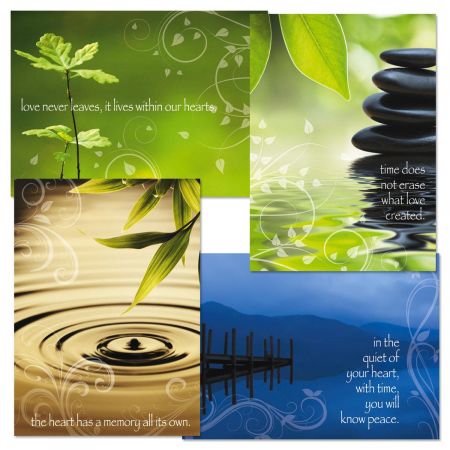 Thoughts of Peace Sympathy Cards & Seals
Send caring words of comfort and faith to friends, family, and acquaintances in their time of need. Nature designs and caring Scripture on the front are completed with sympathetic sentiments inside. White envelopes; 5" x 7". Printed in the USA.
Set of 8 cards (2 of each)
Self Stick 1-1/2" seals match your cards! 1-4 designs per set. Set of 24.
Inside Sentiments
Front: Love never leaves, it lives within our hearts
Inside: With Sympathy And Warm Remembrance
Front: Time Does not erase what love created
Inside: Thinking of You With Heartfelt Sympathy
Front: The heart has memory all its own
Inside: With Love and Sympathy
Front: In the quiet of your heart with time you will know peace
Inside: Sincerely Sorry For Your Loss