Ordering checks is easy!
If it's your first time ordering checks from Current Catalog, don't worry. Ordering checks is quick and easy! If you want to place a check reorder, simply re-enter the information from your last order. If any of your information (bank or personal) has changed, you must start a new order and follow the steps below.
Placing an order:
Find the right check design for you
Choose a style from our Personal Checks page, pick your check design, select a quantity, and add your check order to the shopping cart.
Personalize your checks on our secure check ordering page:
Choose a font style
Enter your address and phone number
Enter Bank information, i.e. the address, routing, and account numbers (you can copy these from your existing personal checks or get them from your bank)
Enter your check start number (start where your last personal check ends or start over)
Check out or continue shopping
Choose the quantity of check boxes. If you want your checks faster, order two boxes and we will ship UPS. Single box orders ship via USPS
Please allow five business days for order processing in addition to the shipping time.
Where to find your check information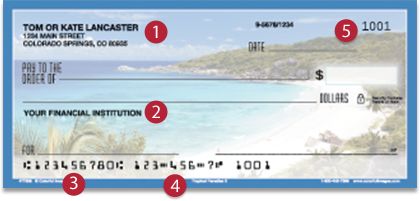 1

Your Information

2

Bank Information

3

Routing Number

4

Account Number

5

Check Start Number
Start Your Order
How to order checks online
If you are anxious about ordering checks online, be assured we in a few easy steps you can place a check order. If any information has changed, like your address, name or bank, just start a new order. Make sure you have your personal and bank information ready and simply start by choosing the check design of your choice. Make sure to enter the check number you want to use start your check sequence. Ordering personal checks online with Current Catalog is safe and secure!