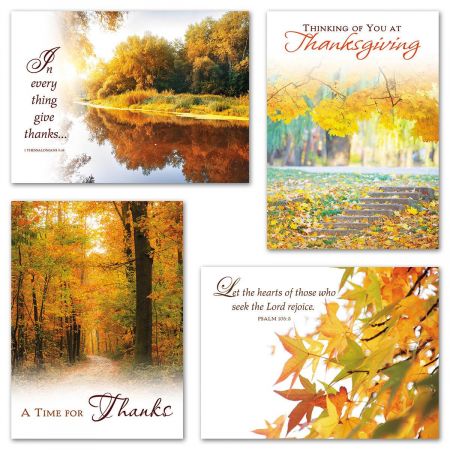 Expressions of Faith® Photo Thanksgiving Cards
Thanksgiving cards are 5" x 7" and comes with white envelopes. Printed in USA.
Set of 8
Card Sentiments:
1. Front: A Time For Thanks
Inside: Praising God for His blessings - especially the blessing of you. Happy
Thanksgiving
Scripture: Give thanks to him and praise his name. PSALM 100:4
2. Front: In every thing give thanks... THESSALONIANS 5:18
Inside: As Thanksgiving arrives this year, may you find many reasons to pause
and give thanks. Happy Thanksgiving
Scripture: Give thanks to the Lord, for he is good; his love endures forever.
1 CHRONICLES 16:34
3. Front: Let the hearts of those who seek the Lord rejoice. PSALM 105:3
Inside: May the beauty of the season fill your heart with joy. Happy
Thanksgiving
4. Front: Thinking of You at Thanksgiving
Inside: Sometimes we forget for a moment just how many of God's blessings
we have - then Thanksgiving comes and gently reminds us.