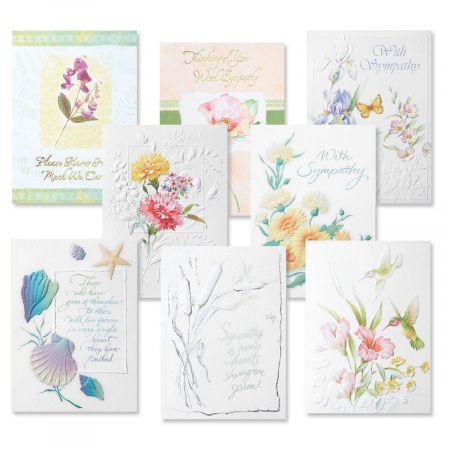 Deluxe Sympathy Cards Value Pack
New
This exquisite set of deluxe sympathy cards, many with foil accents, features beautiful embossing combined with delicate illustrations of nature and touching sentiments expressing your condolences. Includes white envelopes. 5" x 7". Cards are printed in the USA.


Set of 16; 8 designs (2 of each design)
Please see "More Info" box below for the card sentiments.
Card Sentiments:
SHELLS WITH PEARLIZED FOIL:
Front: Those who have given of themselves to others will live forever in every single heart they have touched.
Inside: Sharing in your sorrow at the loss of someone so special.

SUNFLOWERS WITH PEARLIZED FOIL:
Front: With Sympathy
Inside: Sending you love and healing thoughts now and in the days to come.

YELLOW & RED CARNATION:
Inside: Remembering your loved one with sympathy.

CATTAILS WITH SILVER FOIL:
Front: Sympathy is many hearts sharing one sorrow.
Inside: May it help to know that others, too, feel your loss.

ROSES AND BUTTERFLY:
Front: With Sympathy
Inside: In the days ahead may you find peace in warm memories of the times past, and comfort in the good wishes of those who love and care for you.

HUMMINGBIRDS:
Inside: May it bring you comfort to know that others care and share this loss with you.

PURPLE FLOWER with GOLD FOIL:
Front: Please Know How Much We Care
Inside: And that we're keeping you close at heart during this difficult time. With Deepest Sympathy

WILD ROSE GOLD FOIL:
Front: Thinking of You With Sympathy
Inside: May memories build bridges your heart can cross whenever you're feeling sad.