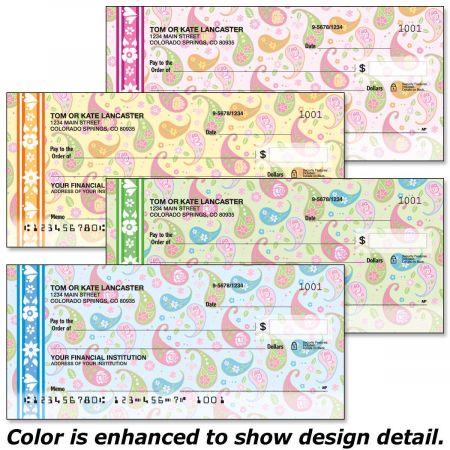 Ring around the roses, pocket full of posies. Lift your spirits every time you write a check! Stylized flowers adorn bright paisley-like shapes in a bubbly, colorful design.
Checks come in 4 rotating colors of the same design; each has a single-color (and white) band of hearts and flowers down the left side. 4-design set of personalized checks is top-tear and available in 125 singles or 100 duplicates that produce a copy of the check for easy record keeping.

Both check styles are standard size 2 3/4" x 6", and both check sets include a register.

We utilize state-of-the-art technology to exceed all American Bankers' Association specifications, as well as guidelines set by banks and credit unions. Checks are standard, secure, and are accepted by all financial institutions.
Personalized or non-personalized matching canvas checkbook covers and sets of 144 coordinating 4-design address labels are also available.


Please allow 5 business days for order processing and verification, in addition to the shipping time.

Want your checks faster? Select 2nd Day or Next Day shipping options during checkout.
Checkbook cover - Features slip pockets for credit card or ID, and plastic flap for duplicate checks. 3 1/2" x 6 1/2" folded; fits standard size checks.

Specify up to 18 characters for the personalized cover.