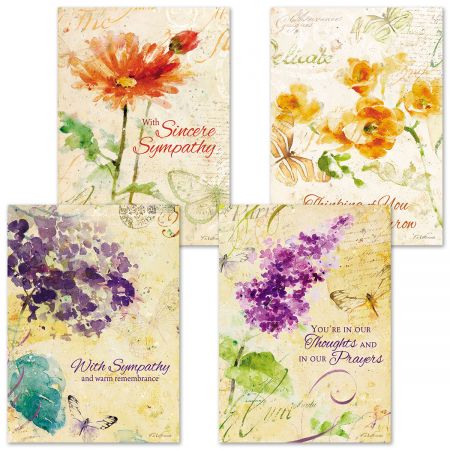 Peace Sympathy Cards & Seals
Buy 2: $4.49 per set. 3 OR MORE; $3.99 per set!
Send your care, concern, and sincere sympathy on these 5" x 7" watercolor floral cards. Backgrounds with the look of vintage scrapbook paper add to the feeling of sweet remembrance. Ivory envelopes included. Printed in the USA.
©FDV Studio
Set of 8 (2 of each card)
Self Stick 1-1/2" seals match your cards! 1-4 designs per set. Set of 24.
Sentiments:
1. Red-orange daisy
Front: With Sincere Sympathy
Inside: May you remember the love and happy times - and find comfort in these memories.
2. Bright purple lilac
Front: You're in our Thoughts and in our Prayers
Inside: Sharing your sorrow at the loss of someone so dear.
3. Dark purple hydrangea
Front: With Sympathy and warm remembrance
Inside: Hoping it helps to know that others share your sorrow.
4. Orange poppies
Front: Thinking of you at this time of sorrow
Inside: ...and hoping that time will bring comfort and peace to your heart.