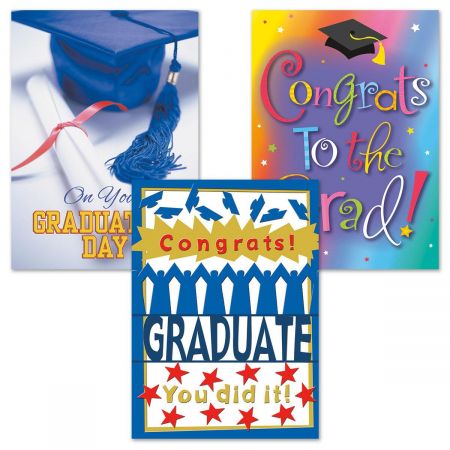 Recognize and congratulate the graduate on all their hard work and efforts. Sure-to-be-appreciated cards are perfect to accompany a gift or as stand-alone congratulations. 5" x 7". Gold envelopes included. Printed in the USA.
Set of 6 (2 of each design)
Self Stick 1-1/2" seals match your cards! 1-4 designs per set. Set of 24.
Card Sentiments:
1. Front: Congrats! Graduate you did it!
Inside: Wishing you all the best as you follow your dreams. Congratulations on Your Graduation
2. Front: Congrats to the Grad!
Inside: Bright Dreams... Bright Future... Best Wishes!
3. Front: On Your Graduation Day
Inside: Wishing you a future filled with happiness, success, and joy! Congratulations