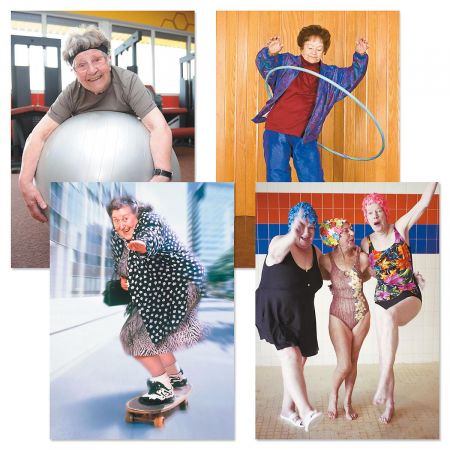 Forever Young Birthday Cards & Seals
Includes white envelopes; 5" x 7". Printed in the USA.
Set of 8 (2 of each design)
Self Stick 1-1/2" seals match your cards! 1-4 designs per set. Set of 24.
Sentiments:
1) Medicine Ball - If you can't be queen of the gym, at least be belle of the ball! Happy Birthday!
2) Hula-Hoop - We're still young enough to shake'em, not break 'em! Happy Birthday!
3) Skateboard - Young enough to do your own stunts but old enough to know better. Happy Birthday!
4) Swimming - Remember, when gravity lets you down, your friends will be there to support you. Happy Birthday!