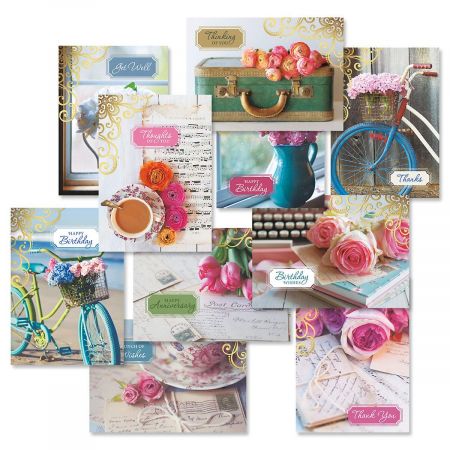 Deluxe Quiet Moments All-Occasion Cards Value Pack
New
Value packs make it easy to be prepared for friends' and family, we have just the cards for all your needs. And how convenient to have the perfect card on hand! Greeting cards are 5" x 7" and come with white envelopes. Printed in the USA.
Set of 20 (2 each of 10 designs)
©Claire Brocato
Please see "More Info" box below for the card sentiments
Card Sentiments:
1. Front: Thanks
Inside: For brightening my day!

2. Front: Happy Birthday
Inside: Wishing you a little sunshine on your special day!

3. Front: Get Well
Inside: Thinking of you today and always, and hoping you feel better soon.

4. Front: Happy Birthday
Inside: For all the lovely things you do, you're wished a beautiful birthday.

5. Front: Birthday wishes
Inside: Here's a fresh picked wish for a birthday as wonderful as you!

6. Front: A Bunch Of Wishes
Inside: ...is coming your way! Get Well Soon

7. Front: Thinking Of You
Inside: ...and sending a smile your way.

8. Front: Thank You
Inside: For being so wonderful!

9. Front: Thoughts of you
Inside: Always make me smile.

10. Front: Happy Anniversary
Inside: Best wishes for a day filled with happy moments from the heart.