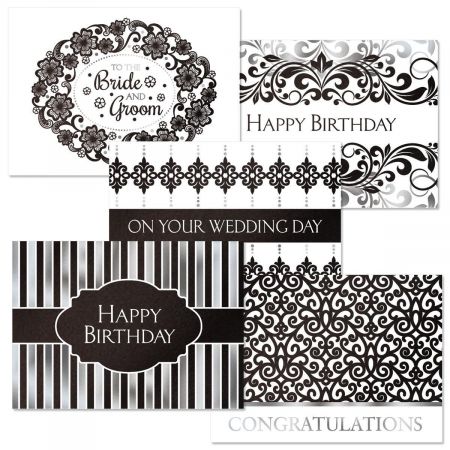 Deluxe Elegance in Black All-Occasion Cards
Now
$1.99
Regular Price
$6.99
Cards are 5" x 7" and come with white envelopes. Silver foil and black foil. Printed in the USA.
Set of 8
Card Sentiments:
1. Front: On Your Wedding Day
Inside: May all your days be filled with love, laughter, and true friendship. Congratulations
2. Front: Congratulations
Inside: May joy and happiness be your today and always.
3. Front: To the Bride and Groom
Inside: May each day of your new life together be full of love. Congratulations
4. Front: Happy Birthday
Inside: Wishing you a year filled with dreams that come true.
5. Front: Happy Birthday
Inside: Sending you a wish for a birthday to remember.