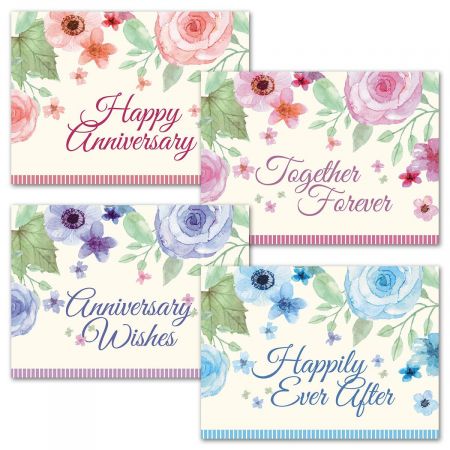 Bliss Anniversary Cards & Seals
5" x 7" cards come with white envelopes; 4 designs. Printed in the USA.
Set of 8
Self Stick 1-1/2" seals match your cards! 1-4 designs per set. Set of 24.
Card Sentiments:
1. Front: Happy Anniversary
Inside: May each year be more beautiful than the last. Have a wonderful anniversary.
2. Front: Together Forever
Inside: Happy Anniversary to a lovely couple. Your love is an inspiration to all.
3. Front: Anniversary Wishes
Inside: Wishing you a day of celebration and a year full of wonderful memories.
4. Front: Happily Ever After
Inside: May the coming years bring continued love and memorable moments.