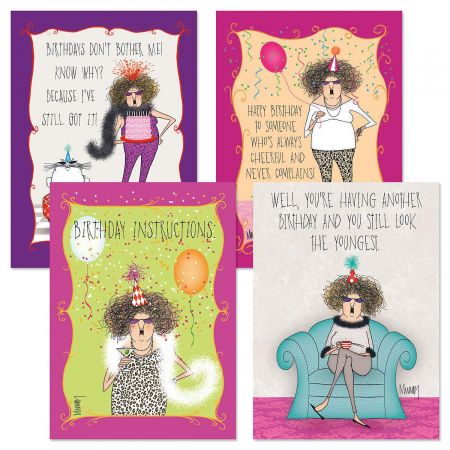 Birthday Girls Birthday Cards
5" x 7" cards come with white envelopes; 2 each of 4 designs. Printed in the USA.
Set of 8
©Leslie Moak Murray
Card Sentiments:
1. Front: Well, you're having another birthday and you still look the youngest.
Inside: That's the last time I spend good money on a gypsy curse. Happy Birthday!
2. Front: Birthday Instructions:
Inside: Drink till I look hot. Happy Birthday!
3. Front: Happy Birthday to someone who's always cheerful and never complains!
Inside: I hate that. Happy Birthday, better person than I am!
4. Front: Birthdays don't bother me! Know why? Because I've still got it!
Inside: It's just been rearranged. Happy Birthday!