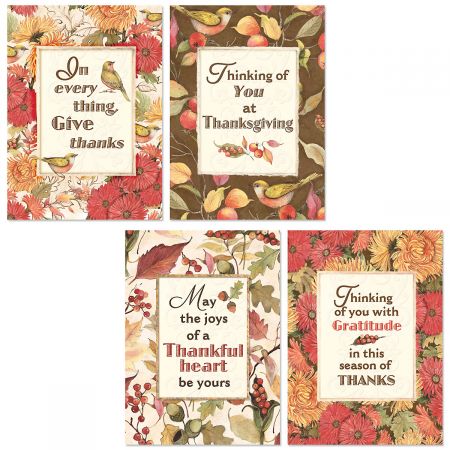 Autumn Botanicals Thanksgiving Cards
Now
$4.79
Regular Price
$5.99
5" x 7"; 2 each of 4 designs. Comes with white envelopes. Printed in the USA.
©Susan Winget
Set of 8
Card Sentiments:
1. Front: In every thing, Give thanks
Inside: Wishing you an abundance of good things.
2. Front: Thinking of you at Thanksgiving
Inside: May this Thanksgiving warm you with the love of family and friends.
3. Front: May the joys of a Thankful heart be yours
Inside: Wishing you a season with many reasons to be thankful.
4. Front: Thinking of you with Gratitude in this season of Thanks
Inside: May all the joys of a thankful heart be yours.