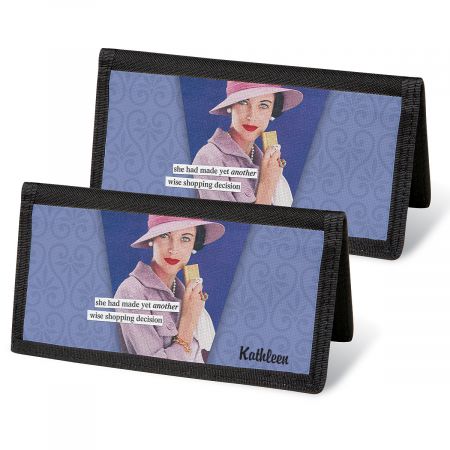 ©Anne Taintor Checkbook Covers
Designed to match our Anne Taintor personalized checks, this Shopping by Anne Taintor personalized checkbook cover with retro graphics features quirky, contemporary humor: "she had made yet another wise shopping decision." Anne Taintor artwork comes from authentic vintage advertisements from the 1930s, '40s, and '50s. Personalized checkbook cover is made of polyester canvas with slots to hold your credit cards and ID and a plastic flap for duplicate checks. 3 1/2"x 6 1/2" folded. Also available in a non-personalized version. See products shown at bottom of page.

Specify up to 18 characters for the personalized cover.

©Anne Taintor, Inc.