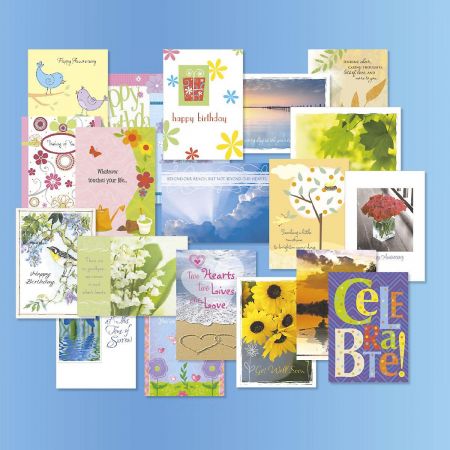 All Occasion Card Mega Value Pack
New
Now
$13.99
Regular Price
$15.99
Be ready for every card-sending occasion with this giant all-occasion card set. Includes designs with sentiments for birthday, wedding, anniversary, baby, get well, sympathy, and friendship, White envelopes. 5" x 7".
Set of 40 (2 of each)
Sentiments:
1. Lily of the valley
Front: There are no goodbyes...we remain in each other's hearts.
Inside: There is comfort in friendship and peace in love. Sharing In Your Sorrow
2. Beach with hearts in sand
Front: two Hearts...two Lives..one Love
Inside: Wishing you every happiness on Your anniversary.
3. Sunflowers
Front: Get Well Soon
Inside: You're in my thoughts, and wished a speedy recovery.
4. Man in rowboat on water at sunrise
Front: Happy Birthday
Inside: Enjoy simple pleasures on your special day.
5. Graphic word
Front: Celebrate!
Inside: ...with friends, fun, laughter, and all things good! Happy Birthday
6. Collage with flowers and stitches
Front: Happy Birthday
Inside: Not just today but every day, too-our wishes, our thoughts, and our love are with you.
7. Cutout paper flowers in green vase
Front: Happy Birthday, With Love
Inside: May today bring you many sweet reminders of how much you are loved. Happy Birthday!
8. Long dock at sunrise
Front: May every day in the year to come...
Inside: ...hold wonderful things for you Happy Birthday
9. Green maple leaves
Front: Hope your birthday is bright with love and laughter
Inside: Enjoy your day!
10. Two birds (illustration)
Front: Happy Anniversary
Inside: Wishing you another day of celebration, another year of love. Happy Anniversary!
Please see "More Info" box below for additional card sentiments.
Sentiments Continued:
11. Geometric flowers
Front: Thinking of You
Inside: ...and sending good thoughts.
12. Flowers and watering can illustration
Front: Whatever touches your life
Inside: ...touches mine. Wishing you a wonderful day.
13. Sun rays behind clouds
Front: Beyond our reach, but not beyond our hearts.
Inside: May the love of family and friends comfort you in this time of loss.
14. Leaf imprint illustrations
Front: Sending cheer, caring thoughts, lots of love, and more to you.
Inside: And hoping you'll feel much better real soon.
15. Birds building nest (illustration)
Front: Sending a little sunshine to brighten your day.
Inside: Reminding you that you're thought of in a warm and special way!
16. Blue flower over water
Front: Thinking of You at This Time of Sorrow
Inside: We are with you in thought and spirit at this sad time.
17. Red roses in clear vase
Front: Happy Anniversary
Inside: May this special day be remembered for years to come as you celebrate together.
18. Illustrated butterflies and flowers
Front: You're on my mind...
Inside: ...and in my heart.
19. Gift
Front: happy birthday
Inside: Wishing you a fantastic day!
20. Bird on flowering branch
Front: Happy Birthday
Inside: Thinking of you and wishing you the happiest of birthdays!